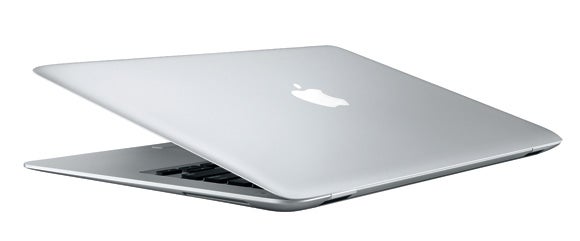 A major computer show that attracted thousands of attendees this past January was not about unveiling new products. It was about digging the grave of one of the most important computer technologies ever invented.
Apple paraded the Mac Book Air and iPhone updates at its heralded annual MacWorld event in San Francisco, but the real story was that Apple successfully pulled off a masquerade of significant proportion, using the "world's thinnest laptop" as its mask.
With the debut of any computer that fits inside an envelope a company is naturally forced to make compromises. As a result, the optical drive, the piece of hardware that reads and writes CDs and DVDs, was on the short list to be excluded.
But why?
Because, as Apple sees it, the computer of the future will be flawless, foregoing ports and slots for wireless signal. That's what makes the difference in the company's vision and sense of style. The entire notion of a perfect computer is contrary to Gates' first law: Any given gadget must include an increasing amount of physical features (and stickers to prove it) over a set amount of time.
Apple CEO Steve Jobs, on the other hand, has such a quest for perfection that he refuses to sleep soundly at night until every screw on a laptop is hidden from sight. His vision of the next generation computer might not even have a keyboard. Imagine being the trembling engineer chosen to report to the chief that the iPhone must include a button after all.
Getting rid of a trusted standard is nothing new to Mr. Jobs, who introduced the fruity iMac in 1998 sans floppy disk drive. To say that Apple was partial to the disk was an understatement. Mr. Jobs' own handiwork, the original Macintosh, was the first computer to introduce the 3.5" disk to consumers upon its surprise introduction in 1984.
Declaring the demise of the disk at a time when CD-burning was expensive and rare, flash drives had yet to be invented and e-mailing files was a slow and painful process was a gamble. But it was a gamble that paid off.
That sort of gamble is precisely what Mr. Jobs is hinging on this time around. In an era when most PCs are beginning to include small media ports like SD card readers, Mr. Jobs prefers to bypass the uncertain race for a dominant memory card format and instead gamble his vision.
The MacBook Air isn't as full of holes as previous computers. A single USB port, one Micro-DVI port and an Audio Out connection are the only slots on the machine accompanying a place for the power connection.
Thankfully Mr. Jobs knows that he can only push the vanilla envelope so far at any given time and spared the ubiquitous USB port, but it too faces a ticking clock. Wireless USB is being actively developed by major manufacturers like Intel and Microsoft while Apple's rival Dell has already begun slipping the new technology into its Inspiron and XPS notebooks.
Other ports are subject to a longer transition period, though a wireless charging pad that made its debut at this year's Consumer Electronics Show will be available July 9. In addition, US researchers are making progress on harnessing frequencies to provide a truer form of wireless power, making the cable once and for all obsolete.
One would think consumers would be alienated by the fact that the MacBook Air undoubtedly makes it more difficult to listen to CDs and watch and burn DVDs with its lack of optical drive.
However, it's quite the opposite. The style-obcessed market purchasing the machine (iPod-toting teens and college students) see it as a liberating move, especially since the bulky drives were holding captive the size, weight and battery power of their laptops. Essentially, optical drives were another burden.
In an age where fewer physical albums are being purchased every year and instead music sales tend to result from digital downloads like Apple's iTunes service provides, teens are finding fewer reasons to rationalize a CD drive. Instead of burning mixes of their favorite tunes, iPods allow them easy access to portable music.
Movies too are increasingly being purchased, rented and downloaded at home, leaving store shelves full. Apple's announcement of a video rental service for its Apple TV and iTunes products is a stepping stone luring the masses from one side of the pond (rental stores) to the other (instant gratification and closing of chains that fail to keep up with the digital era).
Videos consumers create to show off vacations and funny moments are no longer being burned to discs which will eventually be lost or scratched. Instead, the same videos are being uploaded to Web sites like YouTube and Facebook to share with friends more quickly and without the expense of media in an environment that provides storage without fading quality.
Suddenly dual-layer burning and the dilemma of including a next generation DVD drive ceases to be important. Apple has even pioneered the path of extinction for another kind of media storage.
The MacBook Air offers consumers an expensive alternative to the thick, heavy and battery-draining but all important hard disk drive. Such drives, stuck in the guts of nearly ever computer have been replaced in one build of the Air with a solid state flash drive, similar to the memory card found in a digital camera.
Though pricey, Mr. Jobs sees the value of the longer-lasting and faster alternative which will see dramatic cost reductions as time rages on.
Apple's focus has become chipping away at the rock until it becomes a streamlined sculpture, light and beautiful.