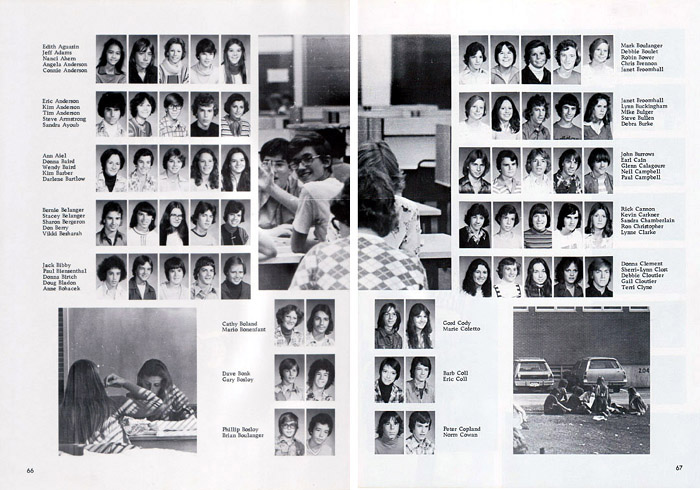 Halley Ofner knows better than any other student that the yearbook, a traditional school centerpiece of history, is in a battle for survival.
"My freshman year we sold almost 600 copies," Ofner, editor-in-chief of the Talon yearbook at American University, said. This year her staff is hoping to sell just 300.
Declining sales are occurring across the country at a rate faster than ever before while more college yearbooks are going out of print.
Linda Puntney, director of student publications at Kansas State University, said that her staff has been reducing the number of yearbooks they print each year while cutting the number of pages in each volume.
"We struggle and we work hard at selling books," she said, although, "Total sales have declined in recent years."
Last year KSU sold a little over 3,000 yearbooks, a small number compared to the more than 15,000 purchased in 1980. Today the campus boasts around 23,000 students.
"When you get to college there's less of a focus on…having a yearbook," she said.
Kathy Lawrence, a yearbook committee chair of College Media Advisers, Inc., said that since the mid-1980s, sales of the Cactus yearbook at the University of Texas in Austin have been steadily decreasing.
Ms. Lawrence, the director of student media at the university, said that the school sold a record 14,000 yearbooks in 1985.
Early in the decline, she said, sales would drop by about a thousand each year. By the time that number tripled the staff decided to take action. Ms. Lawrence said that this year sales are at an average of 2,400, a miniscule number in comparison to the campus population of 50,000 students.
"It's not what you would like to see for all the work that goes into a yearbook." she said. "But as long as we can keep paying the bills we'll keep producing the books."
Recently an on-campus humor magazine at the university poked fun at the yearbook for its dwindling sales, she said, pointing out that the magazine itself was losing money while the yearbook kept a profit, but she didn't mind the publicity.
"As long as they get the yearbook's name out there it creates awareness," she said.
That's awareness that yearbook advisers strongly agree their books need.
Ms. Lawrence said that yearbook sales across the country have faced a strong decline since the 1980s.
"I don't think reading is as popular with students today as it used to be. I don't think nostalgia is as popular today as it used to be either," she said.
Ms. Lawrence said another reason for the decline in sales is that yearbooks were more meaningful when students could find friends on every page. She said that is no longer the case today with larger campus populations, students attending school for more than four years, and a less campus-centered experience at college.
Richard Stoebe, director of communications for yearbook publisher Jostens said that college yearbook sales have declined in the past decades because of the rising number of larger and more diverse campuses.
Students who are more connected with their campus are more likely to buy a yearbook than those who are not, Ms. Lawrence said. Another reason for poor sales are costs in the first place.
"Seventy-five dollars is a pretty substantial investment for students to make," she said. Ms. Lawrence said that students often think that yearbooks end at high school and are surprised to learn their college offers them.
Ms. Lawrence said that the student media staff has previously tried to persuade the university to include the price of yearbooks in a tuition as a mandatory fee, but that after an official committee declined the request the members suggested that no future committee at the university should make the yearbook a mandatory purchase.
"Printing costs across the board have increased," said Mrs. Lori Brooks, a yearbook committee chair for College Media Advisers, Inc. and associate director of the University of Oklahoma's Sooner yearbook.
The school currently prints a combination of 15,000 books a year, a number nearly half of the student population. But it's not all good news.
"Books are declining literally on a monthly basis," she said.
The Talon, which is published entirely in color, does not sell enough copies to cover the cost of printing, Ms. Ofner said. "We don't get any of the money from yearbook sales," she said.
Mrs. Brooks said that yearbooks established by university fees have no problem with sales, but instead struggle with encouraging students to pick up the annuals.
"Books that are based on sales are struggling and will continue to struggle," she said. "There are literally people who put on bake sales and car washes...to try to keep them afloat."
Students at Virginia Wesleyan College in Hampton Roads pay for their yearbook, The Sandpiper, as part of a student activity fee, but won't have to pay for it at all next year, because it won't be printed.
The Sandpiper will see its final edition published this spring said Rebecca Desjardins, the Director of College Communications and the yearbook adviser at Virginia Wesleyan.
"It's been a challenge getting the students involved," Ms. Desjardins said.
Few students would show up for yearbook pictures and campus clubs would fail to provide information and pictures, causing the yearbook staff to miss deadlines, she said.
"We've given it a good try and ultimately decided that it's not something that the student body wants or has made a priority," she said.
Next year the money once allocated for the yearbook will be reallocated for additional student programs, speakers, poets and bands, Ms. Desjardins said.
Virginia Wesleyan assembled a student group to conduct research on the yearbook before the decision was made not to continue the program, Ms. Desjardins said. The students found that the decline was a nationwide trend.
"It's hard to sell history to a college student," Mrs. Brooks said, even though "the very people we struggle to sell to" already own four of their high school yearbooks.